One of my most favourite things to do on a Sunday evening is to have a nice, long, hot relaxing bath.
I love a good bubble bath - I light some of my favourite candles, pop on some chilled out tunes and close the bathroom door.
At the moment one of my favourite bath creams is the Skin Nourishing Milk Bath by Elemis which you can purchase from
Time To Spa
for £39.90 for a 400ml bottle. This bath cream has a milk protein base which is "rich in nourishing vitamins, amino acids and minerals" it also contains natural plant collagen from Oat Extract and Japanese Camellia Oil which helps to "feed the skin whilst keeping it soft and supple". The skin on my legs oftens gets quite dry and itchy and I have found that has really helped calm it down .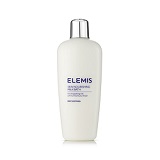 Now this is quite expensive so I use it very sparingly when Im lucky enough to have a bottle. The bottle Ive got at the moment has lasted me a good few months. I also like to top up my bubbles with something more affordable like Dove and at the moment Im using the
Dove Supreme Fine Silk Beauty Bath
which is on special offer from Superdrug for £1.35 for a massive 500ml bottle.
When I really need to chill out I add some Aromatherapy Associates Deep Relax Bath Oil to help me relax and calm my mind. This is amazing - it contains a blend of pure essential oils which all help soothe you and is excellent to use before bedtime for a wonderful nights sleep. I purchased my bottle from
Salon Skincare
for £37.00 - again this is quite expensive but the quality is amazing and you get 20 baths out of a bottle so that
works out at just under £2 a bath - Bargain !
The candle I have in my bathroom at the moment is the lovely Neom Organics Happiness Treatment candle which is infused with White Neroli, Mimosa and Lemon. I love this candle it really does smell like the spring. I have the travel sized candle which I received in my February Amarya Beauty Box but you can purchase these from Neom for £13.
What are your favourite bath time products?
Lots of Love
Lipstick Fridays
xx